Our Apartments are Pet-Friendly!
We welcome pets at Tiffany Woods Apartments. At Tiffany Woods Apartments in Muskegon we are pet-friendly and want to meet these important members of your family. Please bring your pet to the office for an "interview". We like to meet and get to know all our residents, even our four-footed ones!!
Pet Policy:
Tiffany Woods welcomes both dogs and cats
Tiffany Woods also welcomes most other caged animals (upon approval from the office)
Breed restrictions: We do not accept Akita, American Bull Dog, American Pit Bull Terrier, American Staffordshire Terrier, Bull Terrier, Chow Chow, Doberman Pinscher, German Shepherd, Mastiff, Olde English Bull Dog, Presa Canario (Canary Dog), Rottweiler, Staffordshire Bull Terrier, Dalmatian, Saint Bernard, Great Dane or any mix of these breeds
A signed pet addendum is required
Pet Fees
Non-refundable pet fee of $350 for 1 pet
Non-refundable pet fee of $500 for 2 pets
The monthly pet fee is $50 per pet
For further details on our pet policy, please contact our office staff.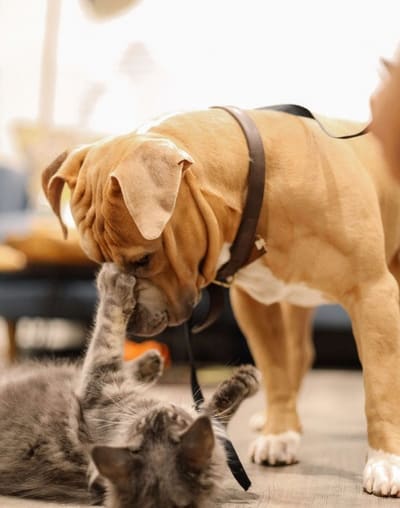 Testimonials
The new railing is such a wonderful addition to our building. Thank you!

- Anonymous
Thank you for keeping the general area and interior of the buildings clean.

- Anonymous
The staff is cooperative and they have an excellent maintenance team.

- Anonymous
Friendly staff, effective maintenance team, and an ideal community mindset.

- Anonymous
I love the New Management. When you need something fixed, they get it done.

- Anonymous
My husband and I just moved in and so far we are loving it. Ever since we came in to inquire about the property, the staff members have always been so nice and professional, also very considerate with making it easier for us to move in.

- New Resident
Loving living here. Close to everything I need. Great amenities. Any problem with my apartment has always been addressed promptly. Great neighbors.

- Anonymous
My family has only been here 3 months and we love it! We can finally have a puppy. My children school is in walking distance. I also work, maybe 5 minutes away. The office staff are very friendly! I also like the weekly newsletter the send out. Communication is great. They keep my packages safe until I am able to pick them up. I online shop a lot since the Covid-19.

- Google Review
We have lived here for going on three years now. We love it here! We miss movie nights and popcorn but understand during this time. We had a good time the other morning having breakfast on the go. It was a little cool out but the everyone had a good time. Thank you all for doing that for us!

- ApartmentRatings Review
I have lived at Tiffany woods now for three years and I have enjoyed every minute of it. My neighbors are super friendly and my kids have a lot of other kids to play with. Office and maintenance staff are amazing!

- ApartmentRatings Review
All the ladies here at amazing! Very quick to take care of you. Love how quiet it is. Would definitely recommend this living establishment before anywhere else

- ApartmentRatings Review
I been living here for over 1 year and I love it! Bobby and Stacy are great and quick to help me with anything I need!

- Yelp Review
Nice quiet neighborhood. Enjoy living here

- Yelp Review
5 Star Review: came in to see apartments. model was clean and decorated nicely. we were able to see how our future home could look. apartments are very spacious and you get a carport and storage area! plus the staff is nice.

- ApartmentRatings Review
5 Star Review: We have lived in Tiffany Woods for almost 5 years. Staff has always been quick to respond to any issues that we've had and always responds in a courteous manner. We highly recommend these apartments to families. Maintenance is super friendly and actually cares about their repairs. Roosevelt Park Police drives through nightly, and some staff live on location so you can feel safe living here knowing that safety is taken very seriously.

- Google Review
5 Star Review: As a mom of three I can tell you that we love it here. There is always something for the kids to do and it is so close to the beach and shopping. My kids go to Campbell and it is very close for us. The staff are nice and I even had a chance to meet the boss one day and he was very nice too. (Joe?) Anyway. If you are looking for a good place to live come here. Seriously. We love it here and feel safe. Oh - and thank you to the maintenance guys. They are always helping

- Google Review
5 Star Review: We love getting the word out about where we live. These guys are great and really care about the people who stay here. You can't beat the location. Stop in and check them out. We are a family here

- Google Review
5 Star Review: The staff makes this place a good place! We really like living here

- Google Review
5 Star Review: Came in for a tour and met with Stacey. She gave me the information for the application told me what was available and what I needed to fill out the application. She was very helpful and answered all my questions even the out of the ordinary ones

- ApartmentRatings Review
5 Star Review: I love this community. This is the 1st place that I rented and I love it. Everyone is so nice and friendly. They are always willing to help out. They always say "Hi" when they see you. This place feels like home.

- ApartmentRatings Review
Thank you to the team for all they do! It is a great place to live! I have been a resident for a few years now and enjoy my home

- Anonymous